Many diets have communities who organize events to rally dietary participants and intrigue potential newcomers to their lifestyle. And with World Carnivore Month, the carnivore diet is no exception. 
So, what is world carnivore month? The World Carnivore Month is usually in January, every year. This 31-day challenge allows many health and fitness aficionados intrigued by a change of eating habits to sign up for a month-long test of eating only meat. 
If you haven't started a carnivore diet yet, but are curious about it, the World Carnivore Month is a great way to get your foot in the door! To learn more about this magical time of the year, read on. 
When is the World Carnivore Month?
The World Carnivore Month happens every year in January. This period calls for a 31-day long challenge, which allows carnivores around the world to connect, get together, and celebrate this healthy lifestyle. 
For anybody that has not yet tried out the carnivore diet, the World Carnivore Month is a great time to test these new eating habits and find out if they are an excellent choice for them.
Alternatively, veterans of the all-meat diet can get the help of a supportive community and share their experiences while encouraging others.
If you have been feeling the weight of this lifestyle in social situations or you are bored of eating the same ingredients over and over, the Carnivore January is a great occasion to renew your bond with it and get new ideas.
Feeling excluded from a group of friends because of your nutritional choices can take a toll on your mental and physical well-being.
Finding social support while pursuing your fitness goals is one of the most critical factors that can influence your chances of success.
What do I do during the World Carnivore Month?
Simply, you have the chance to try this innovative diet with all the help and support you might need during the challenging first month. Here are some tips on how to best prepare for it and what to expect from this challenge.
How do I get involved?
Being a worldwide event, World Carnivore Month attracts many curious people and believers from many different countries. You can sign up for it directly on the personal website of Shawn Baker, the founder of the carnivore diet, as we know it today. 
There you can also find all the essential tips you need to succeed as well as the inspiring stories of testimonials and their families. If that is not enough for you, check out the story of Shawn Baker himself!
One of the best ways to keep yourself updated on when the next World Carnivore Month will be and how to join it is through the growing Facebook Group World Carnivore Tribe.
This platform is also a great channel you could use to connect with other successful carnivores, learn about their stories, and steal a couple of useful tips to implement in your journey.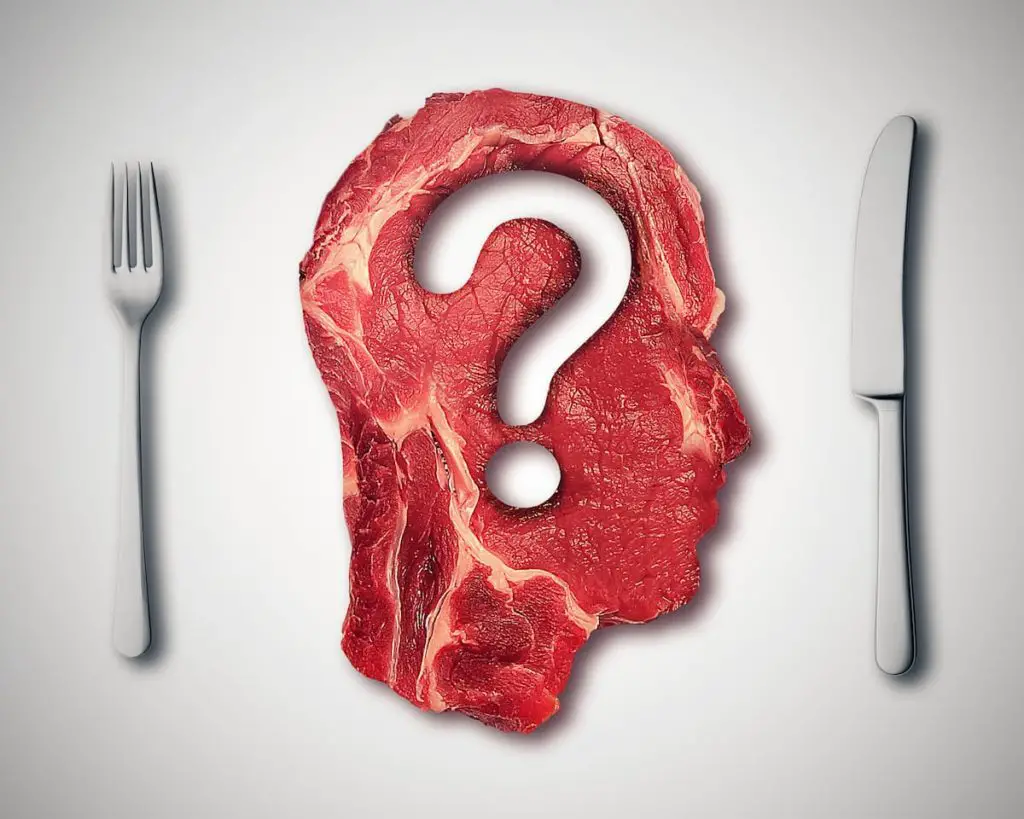 Are there resources available?
If you are looking to prepare yourself in the best way for the next World Carnivore Month, you can leave your email address on Shawn Baker's website just before January.
The creator of the diet allows you to have free video chats, join online interactive forums, and exclusive access channels to connect with other carnivores.
These resources are free of charge for January and are a great way to get an overview of what is expecting you ahead. Check out the next section for a brief introduction to the World Carnivore Month.
How does the World Carnivore Month work?
The World Carnivore Month is a 31-day trial period during which you can test whether this diet is right for you. Several people who started the carnivore diet report that the first month is the hardest one.
Without any help and support, you might fall for the temptation to give it up altogether before enjoying the great results that are just around the corner.
Why is the first month the hardest?
You might be sitting there thinking that you are stronger than they think, and you can do the diet on your own at any point of the year. 
The truth is that you most probably can! 
However, nobody goes on a strict diet just for the fun of it, and you deserve to see the results you wanted. For you to achieve them, the most important thing is not to underestimate the first months - aka Adaptation Period.
The length and intensity of the adaptation period can change from individual to individual, but it often coincides with the first few weeks on this diet. 
During this time, your body switches its metabolic process to source essential calories, and therefore energy, only from protein and fats.
Alongside it, you can experience changes in the glucose levels in your blood and the composition of the gut microbiome.
Such intense changes might have mild to medium side effects such as:
Constipation
Nausea
Diarrhea
Increased sweating
Headaches
Sleep troubles
These symptoms might differ from person to person, making the support and counseling of expert carnivores essential. Best of all, you can also experience rapid weight loss and many other benefits that we are about to explore!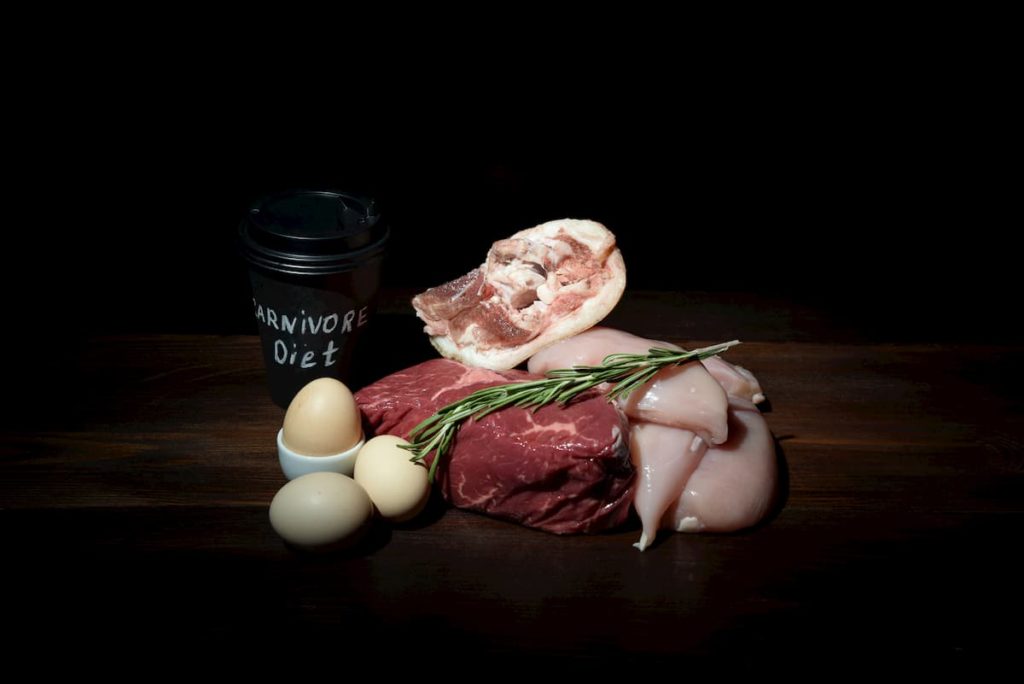 What can I drink?
To see the best results out of your first month as a carnivore, you should limit your drink menu to two items: water (carbonated or not) and bone broth. 
Coffee and tea are also viable additions to the carnivore diet, but these substances can alternate your energy level and are derived from plants.
Instead, experts suggest sticking to the strictest choices to enjoy your carnivore experience fully. 
What can I eat?
The menu of a carnivore is limited, but you can cook delicious and juicy meals out of the few ingredients on your shopping list. As per the drinks, you should only eat the essential food items included in the diet during the first month, which are:
If you, like many others, fall in love with this diet and decide to keep it up after the end of the World Carnivore Month, you can start re-introducing sides and exceptions such as dairy (heavy whipping cream, hard cheeses, etc.).
While cooking your meat, add salt to the flesh but keep your dishes free of sauces.
What are the benefits of World Carnivore Month?
The list of beneficial effects on your mental and physical health that derive from the carnivore diet is endless! However, if you are looking to know more about what to expect during your first month, here is a collection of the most enjoyable benefits.
Rapid weight loss
Clearer skin, reduction of acne outbursts, pimples, and black spots
Increased ability to add lean mass
Reduced digestion problems such as bloating and gas
Increased mental clarity
A decrease in symptoms of depression and anxiety
Elevated ability to focus and enhanced mental clarity
Decreased inflammation due to a more stable gut microbiome
Feeling of detox as you cut out the toxins deriving from plants. 
Final Thoughts
Whether you have started the diet and you need extra support to continue, or you are curious about this lifestyle and ready to try it, the World Carnivore Month is a great time to test it. 
Aside from being able to enjoy free resources, guidelines, and forums, you can expect to see the health and fitness results you had been desiring.
Of course, the adaptation period is a scary time for everybody, but being able to get in touch with successful veterans of the carnivore diet will make everything easier!
If you read this far you are amazing! I would love to hear from you in the comments below if I helped you gain knowledge and useful information, additionally I would like to know if I got anything incorrect that you believe should be researched more and updated. As always to get the word out please join our new Carnivore Rx group on Facebook and share this out on social media!
Additional Information and Sources